If you prefer, you can choose between our plain Duvet Covers .
We have duvet covers in solid plain colors with different fabric qualities.
Extra soft microfiber duvet covers.
Microfiber duvet covers with an extra soft touch. Patterned models and with embossed fabric.
Sale Duvet Covers
Take advantage of the SALES offers on 100% cotton Duvet Covers with exclusive designs and the best possible touch.
Discounts patterned and smooth duvet covers. Discount offers with duvet covers for beds 150, 90, 135, 140 and 180.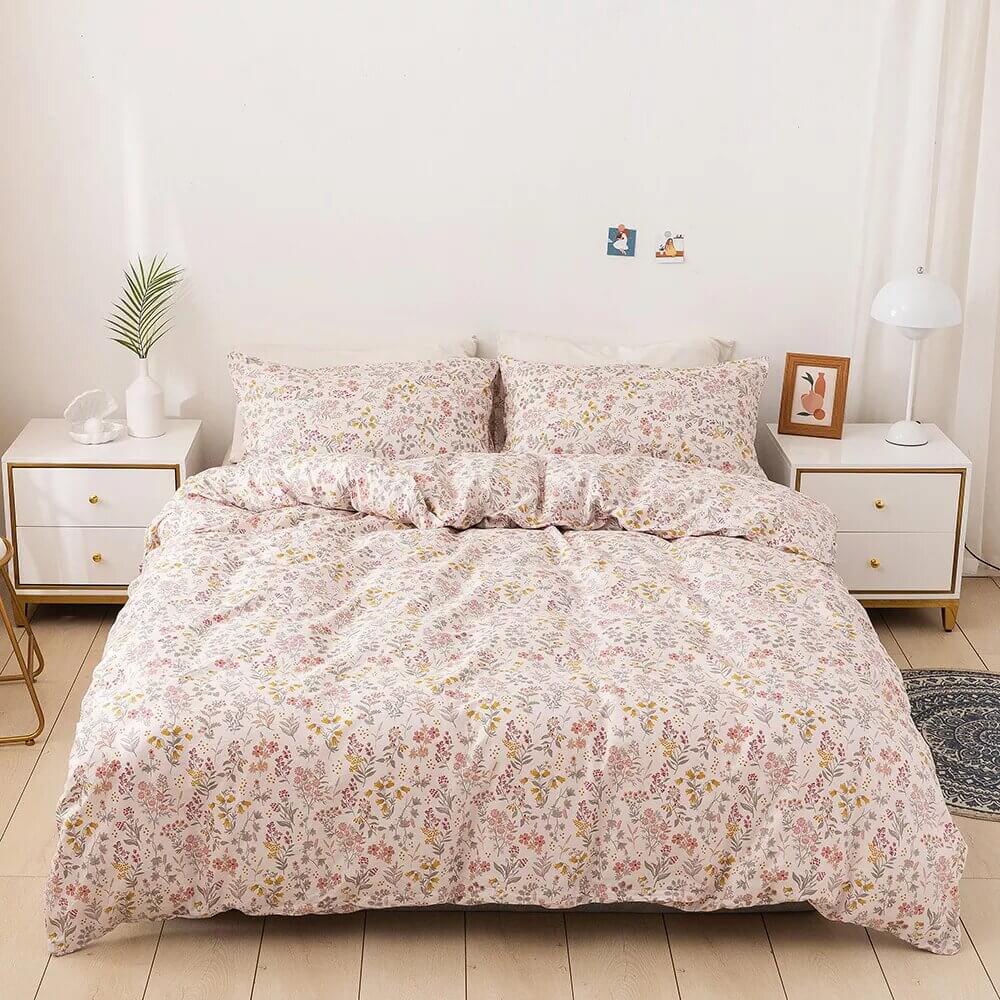 100% Cotton Duvet Covers
Our duvet covers are 100% cotton, a natural fiber that respects the care of our skin, lasts longer and is softer to the touch.
Advantages of buying a 100% Cotton duvet cover:
- Cool fiber in summer and warm in winter.
- As they are made of natural fibers, they offer more absorption, so air passes better through them and they do not retain moisture.
- Does not form balls and is hypoallergenic, not irritating the skin or causing allergies.
We have duvet covers with patterns and solid colors that will dress your bedroom in a spectacular way.
Complement your Duvet Cover
Choose a duvet filling and a pillow to complement your Duvet Cover.
bedroom accessories
Choose other accessories to dress and decorate your bed.
Collapsible content
What size do I need for my bed?

If you have a single bed:

bed 90cm

Duvet cover 150cm x 220cm

Pillowcase 45cm x 110cm.

If you have a double bed:

Bed 135/140cm

Duvet cover 220cm x 220cm

Pillowcase 2 x 50cm x 75cm

150/160cm bed

Duvet cover 240cm x 220cm

Pillowcase 2 x 50cm x 75cm.

If you have a king-size bed:

180/200cm bed

Duvet Cover 260cm x 240cm

Pillowcase 2 x 45cm x 110cm

If you have a very high bed, or you want your duvet cover to hang down a lot, you can choose a size larger than the recommended one.
What Duvet Cover do I choose?

If you have doubts about which Duvet Cover to choose, think first if you want a patterned or smooth model, depending on the decoration you want to have in your bedroom.

Also choose the size of the duvet cover you need depending on the size of bed you have. Normally, for a single bed, you will need a 150cm x 220cm Duvet Cover. For a double bed, you will need 240cm x 220cm.
If it is natural fiber, better.

If you are in doubt about which material to choose, we recommend duvet covers made of natural material, since it respects the care of our skin, lasts longer and is softer to the touch.

100% cotton duvet covers are ideal for your skin.
What does the number of threads mean?

Thread count is the number of vertical and horizontal threads found in one square inch (2.54 cm) of fabric. The higher the number of threads , the better the quality of the Duvet Cover, being softer and more pleasant to the touch.

In our Duvet Covers store, you will find basic 100% cotton Duvet Covers with 150 thread count, 200 thread count and 300 thread count, these being the softest and silkiest.
Cheap Duvet Covers.

Cheap duvet covers 100% cotton of the best quality. Find your cheap duvet cover among our 100% cotton basics.